Academic achievement awards were given on the third day of Jalsa Salana  Canada 2017.
From its inception the Worldwide Ahmadiyya Muslim community has always laid prime emphasis on the teachings of the Holy Prophet Muhammad (sa) that
"Acquisition of knowledge is obligatory upon every Muslim man and woman."
It was revealed to the Promised Messiah (as) that the members of his community will excel others in the fields of knowledge and wisdom. To recognize those who fulfill their obligation of seeking knowledge, and are embodiment of the revelation of the Promised Messiah (as), it is Khalifa-tul Masih's (aa) expressed desire to award such members of the community every year at Jalsa Sālāna. Awards are conferred for Academic Excellence on merit basis and overall average of a diploma/ degree/ certificate is taken into account.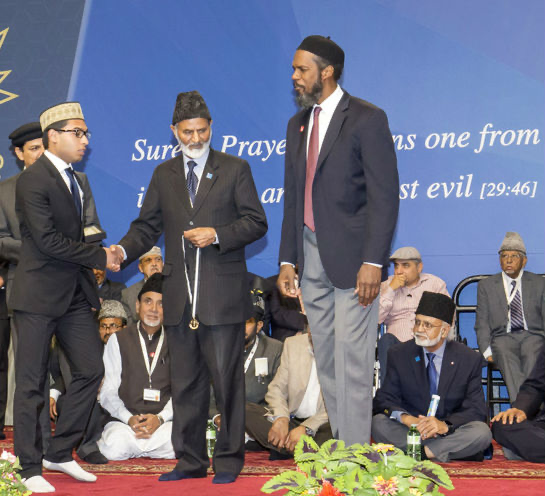 Following is the list of all applicants who received Academic Achievement Award at the 41th Jalsa Salana Canada (2017).
Gold
| | | | | |
| --- | --- | --- | --- | --- |
| Reference Code | Name | Father name | Level | Institute |
| 7267 | Aisha Munawar | Munawar Ahmed | College | Sheridan College |
| 7311 | Mah Rukh | Tariq Aziz | Grade 12/CEGEP | Bethlehem Catholic High School |
| 7479 | Mahnoor Khan | Muhammad Sohail | Grade 12/CEGEP | Lillian Osborne |
| 7297 | Naiela Anwar | Aftab Anwar | Grade 12/CEGEP | Walter Murray Collegiate Institute |
| 7599 | Labiba Majeed | Majeed Ahmad | Postgraduate | Yorkville University |
| 7598 | Zaki Ahmed | Abdul Sami | Postgraduate | McGill University |
| 7274 | Maha Sami | Abdul Sami | Undergraduate | University of Windsor |
| 7463 | Natasha Rahman | Dr. Riffat-ur Rahman | Undergraduate | University of Windsor |
| 7280 | Sadaf Rashed Khursheed | Rashed  Ahmed | Undergraduate | York University |
| 7261 | Waqar Ahmad | Ilyas Ahmad | Undergraduate | York University |
Silver
| | | | | |
| --- | --- | --- | --- | --- |
| 7441 | Ummara Ahmed | Mubashir Ahmed | College | Mohawk College |
| 7265 | Ayesha Salman Khan | Muhammad Salman Khan | Grade 12/CEGEP | Monsignor Percy Johnson Catholic Secondary School |
| 7190 | Basima Shaikh | Iftikhar Shaikh | Grade 12/CEGEP | Maple High School |
| 7203 | Haseenah Molumo | Daood Molumo | Grade 12/CEGEP | Webber Academy |
| 7330 | Manohar Chaudhary | Nazir Ahmad | Grade 12/CEGEP | Glendale Secondary School |
| 7590 | Sajila Nudrat | Sarfaraz Ahmed Khan | Grade 12/CEGEP | St Joan of Arc Catholic High School |
| 7315 | Zoha Faheem | Faheem Najam | Grade 12/CEGEP | Zoha Faheem |
| 7518 | Zoobia Shahab | Shahab Khokhar | Grade 12/CEGEP | Mississauga Secondary School |
| 7217 | Mobaraz Khokhar | Iqbal Muhammad | Postgraduate | University of Toronto |
| 7403 | Naseer Tariq | Naseer Tariq | Postgraduate | University of Toronto |
| 7295 | Nida Khurshid | Laiq Ahmad Khurshid | Postgraduate | York University |
| 7355 | Zonera Sharif | Sharif Ahmad | Postgraduate | McMaster University |
| 7363 | Afreen Ahmad | Nasir Malik | Undergraduate | McMaster University |
| 7188 | Kashifa Tariq | Fahad  Mahmood | Undergraduate | York University |
| 7374 | Nomana Khan | Shaukat Khan | Undergraduate | Ryerson University |
| 7275 | Nusrat Phool | Sarfraz Ahmad | Undergraduate | York University |
| 7387 | Qasid Iqbal | Zafar Iqbal | Undergraduate | York University |
| 7404 | Sidrah Wassim | Waseem Ahmad | Undergraduate | University of Toronto (St.George Campus) |
| 7353 | Syed Anser Daud | Syed Aslam Daud | Undergraduate | McMaster University |
Bronze
| | | | | |
| --- | --- | --- | --- | --- |
| 7337 | Farahnaj Faroque | Omar Faroque | Grade 12/CEGEP | Maple High School |
| 7489 | Farhan Ahmed Shad | Farhatullah Shad | Grade 12/CEGEP | John Fraser Secondary School |
| 7300 | Kamran Nasir | Nasir Mahmood | Grade 12/CEGEP | Walter Murray Collegiate |
| 7166 | Lubna Nadeem | Dawood Ahmad Nadeem | Grade 12/CEGEP | Champlain College Saint-Lambert |
| 7254 | Madeeha Tariq Anjum | Tariq Anjum | Grade 12/CEGEP | Wp Wagner |
| 7386 | Maria Mehmood | Mariam Mehmood | Grade 12/CEGEP | Northview Heights Secondary School |
| 7304 | Noor-ul-ain Alamgir | Fareed Ahmad Alamgir | Grade 12/CEGEP | Saltfleet District High School |
| 7408 | Osmaan Dawood | Masaf Dawood | Grade 12/CEGEP | Garth Web Secondary School |
| 7287 | Saad Khan | Jamil Khan | Grade 12/CEGEP | James Fowler High School |
| 7348 | Samiyya Malik | Muhammad Malik | Grade 12/CEGEP | John McCrae SS |
| 7322 | Tahir Khalid | Nadeem Khalid | Grade 12/CEGEP | Toronto Prep School |
| 7536 | Valiyah Khurshid | Zahid Khurshid | Grade 12/CEGEP | RENFREW COLLEGIATE INSTITUTE |
| 7401 | Abdul Salam | Abdul Salam | Postgraduate | Association of Chartered Certified Accountants |
| 7500 | Hassan Ahmed | Masood Ahmed | Postgraduate | CFA Institute |
| 7516 | Ali Arshad | Syed Salim | Undergraduate | University of Alberta |
| 7585 | Annum Shah | Shabber Shah | Undergraduate | University of Calgary |
| 7230 | Myrah Shoaib Pasha | Talha  Qureshi | Undergraduate | Ryerson University |
| 7321 | Naila Chaudhry | Abdul Chaudhry | Undergraduate | University of Calgary |
| 7519 | Qasid Chaudhry | Tahir Nasir | Undergraduate | University of Toronto |
| 7343 | Quratul Ayn | Mubashir Bisharat | Undergraduate | University of Toronto |
| 7384 | Siddrah Ahmad | Muzafar Ahmad | Undergraduate | Sheridan College |
| 7367 | Zara Ahmad | Amir Ahmad | Undergraduate | The University of Guelph |